Cariboo - Chilcotin Funeral Service Ltd.
Serving theCentral Interior and ChilcotinCoast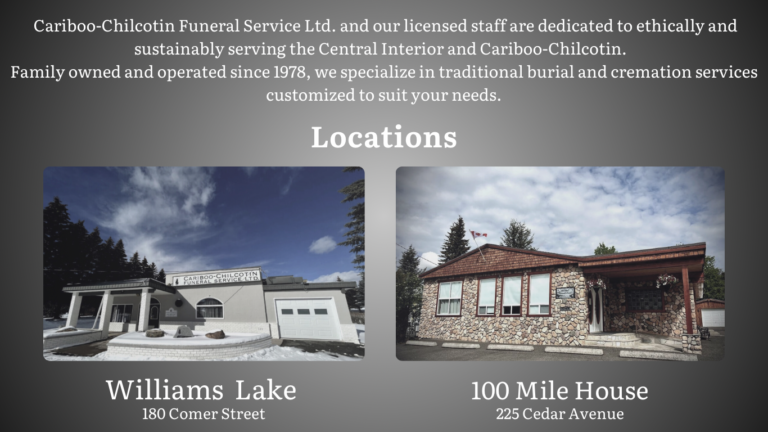 Our staff are available Monday-Friday 9:00am-5:00pm to answer your questions, schedule appointments, and guide you throughout the funeral process.
We have resources available for after-hours needs, please contact the office nearest to you.
Immediate Need
At-need Transportation Services are available 24 hours a day 7 days a week. If you have experienced the death of a loved one, please contact the office nearest to you.
Burial and Cremation Services
Cariboo-Chilcotin Funeral Service Ltd. offers dignified burial and cremation services to honor your loved one's life and memory. We take pride in our efficient and knowledgeable staff's commitment to serving your family with utmost respect and personalization to best suit your needs. 
Monuments and Products
We can assist you with both the design and ordering of custom granite and bronze monuments. These products are manufactured in British Columbia and are designed with the highest level of craftsmanship and quality. Orders can be placed at both 100 Mile House and Williams Lake locations, please phone the office nearest to you to schedule an appointment. 
Our locations offer a vast selection of caskets, urns, keepsakes and cremation jewelry. We are honored to carry local handmade caskets and urns. 
Funeral services can be unfamiliar territory for many, with various processes, costs, and products involved that are unknown and often difficult to discuss. Our intention is to ease feelings of uncertainty by providing clear and concise information about the services we offer.
The Arrangement Process
Upon request for services, one of our licensed funeral directors will need to meet with the deceased's authorized legal representative to begin the process of making arrangements. If the deceased has a will in place the "executor" would be the individual responsible for making the arrangements and signing the funeral documentation. If there is not an existing will, the funeral director must determine the legal next of kin as outlined by the "order of priority" under British Columbia's Cremation Interment and Funeral Services Act. The funeral director will gather information about your loved one and family's wishes, are they for burial or cremation services? The funeral director collects personal information about the deceased (information for B.C. Vital Statistics Agency) such as date and location of birth, healthcare and social insurance numbers as well as their primary occupation. This information is used to register the death with Vital Statistics which then allows the funeral provider to generate the required documentation, including the original death certificate.
Funeral Expenses Explained
The cost of funeral services can vary greatly. As the purchaser, you have the right to expect a transparent and precise estimate of these costs before making a final decision. The licensed staff at Cariboo-Chilcotin Funeral Service Ltd., will provide information and an estimate based on the services you are interested in. Please reach out to the office closest to you via phone or email, and we can schedule an appointment to provide a breakdown of costs and any other information completely free of charge and with no obligation. We understand that making decisions about funeral services can be difficult, our goal is to make the process as informative, easy and stress-free as possible for you and your loved ones.
Some of the common expenses when considering funeral services include the funeral home's fee for service, documentation and registration, transportation, and preparations for viewing and visitation if desired. There are many important areas of consideration; certain products such as caskets, and urns, cemetery costs, venue and possibly catering or florists. The cost of these products will vary and do change often, Cariboo-Chilcotin Funeral Service Ltd. has worked over the years to develop and sustain great relationships with Canadian and local suppliers. The quality of merchandise can have a significant impact on the overall experience as well as the cost of funeral services.
We strive to provide the highest level of care and service to the members of our communities and the funeral service profession. We aim to give back to the communities we serve through sustainable partnerships, relationship building, and efficiency.
We will honour the persons whose final disposition we are entrusted to oversee with integrity, dignity, respect, and without prejudice.
About Us
100 Mile Funeral Service was founded in 1978 by Ian and Del Gunn who had previously owned and operated a Funeral Home in Northern Manitoba for a number of years. Ian's reputation as the local funeral director evolved in the Cariboo, and his son Shane began working with him in 1992. Shane and his wife Meg purchased the company in 1997, and in 1999 established the funeral home at its present location on Cedar Avenue in 100 Mile House where it still remains today.
After having served the community of 100 Mile House and the outlying areas for close to two decades, 100 Mile Funeral Service expanded to Williams Lake: BC and Cariboo-Chilcotin Funeral Service Ltd. was established. Our organization, serving both 100 Mile House and Williams Lake is grateful to our genuine, professional and dedicated staff who possess an exceptional ability to attend to all communities. We will continue to hold the needs of the individuals we serve in the highest regard, and strive to provide the highest level of service in your time of need.